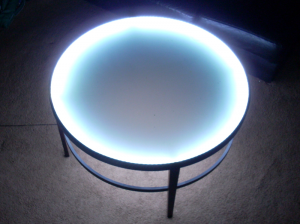 One Sunday afternoon I was wondering how easy it would be to hack together a light up coffee table. A quick search of Craigslist yielded the perfect candidate, a 36" frosted glass top coffee table. After exchanging a few emails, on my way home from work I picked up the table. The gentleman selling the table turned out to be a maker himself. We had a great conversation about all the things he had built throughout his lifetime. I felt sort of bad for doing the typical Craigslist lowball.
The following weekend I laid out all of the components: the table, white led strip lighting, and a 12 volt 1 amp wall wart power supply. The LED strip lighting was some that I had ordered previously from eBay for $17.99 with free shipping for 5 meters worth. The LED strip is waterproof and came backed with thin clear 3M double sided tape. The power adapter was sourced from my 18 gallon tupperware container that contains most of my miscellaneous collection of elecronics.
The build process was straightforward: connect wires to the terminals of the LED strip, affix the LED strip to the table, and neatly route any conductors. With the glass top in place I began by test fitting a portion of the LED strip and then making a small mark around the entire frame. It was during this test fitting that I realised that the area where the legs met the frame would need to be modified to accommodate the thickness of the LED strip. I used a utility knife to score the wood and then used a dremel to remove the unwanted wood within the scored area. After the LEDs were attached to the frame of the table realized that the LEDs in the strip are grouped into sets of 3 I was forced to choose between coming up short or having an overlap. I chose to remove more material from one of the legs and to have a full 363-degrees of coverage. I ended up routing the wires to the power adapter down leg and securing them beneath the lower frame which provided strain relief.
This fun little weekend project gives the living room it resides in so much class! It acts as a light source, but does not have the same effect as a lamp. My favorite compliment being, "It looks like something you would see in a Miami nightclub." As for revisions, if this was more of a product and less of a weekend hack I would have liked to added a barrel jack adapter to the base of one of the legs and routed the wires inside the center of the leg. And if I were to be really picky I would have to also include the fact that the white LEDs have too much blue in them. I believe warm white LEDs would be more natural and lessen the nightclub look.