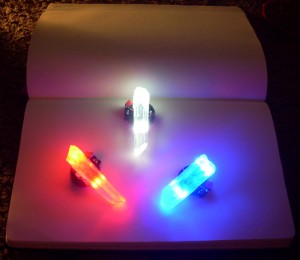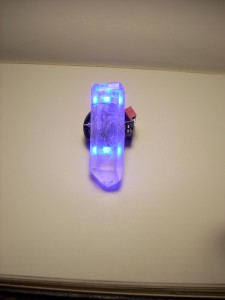 After seeing so much plastic crap that lights up I decided that there needed to be a more elegant solution in terms of light-emitting jewelry. These necklaces are currently on their second iteration. It is at each stage that I am learning more and more about jewelry making while making what is essentially a flashlight.
BOM
Crystal
CR2032 Holder
CR2032 Battery
1-Pole DIP Switch
Copper Jewelry Wire
3528 LED
The current parts list consist of a quartz crystal that has a few SMD LED's attached to it, which is powered by a CR2032 battery housed inside of a plastic battery holder. Power is controlled by a single pole DIP switch. The crystal acts as an excellent diffuser. The battery will provide light to a single LED continuously for over 3 weeks.
Building
These are rather tedious to build, which only adds to the artistry that takes place in creating such a device. Doing multiple light emitting pendants at once makes the assembly process much smoother. Currently about 30% of the products fail to meet the simple QA test of turning on. A small amount of superglue is used to connect the LED and battery holder to the crystal. Once dry, twisted copper wire is shaped into place which acts as a conductor. Painters tape is used to hold the wire in place while it is permanently soldered. After testing, the conductors are sealed using a two-part epoxy. The same epoxy is used to permanently bond the crystal to the holder and to attach the chain holder.
As for possible future revisions, the battery needs to shrink. I would love to go with a rechargeable battery, but the 80% drop in capacity is not worth it. I was looking at a CR1220 batteries, as they are the smallest 3V Lithium battery that has an holder readily available (30 cents/unit; +10 cent increase). The ON/OFF switch needs to be a bounceable push button (19 cents/unit; +11 cent increase). And ideally a custom enclosure needs to be designed to house the battery and integrate the switching mechanism, a temporary fix would be to use some sort of chainmail/lamay-type sheathing. For a truly premium device, an aluminum enclosure would house all components and have the a higher value stone on the front.